Content marketing: how to use a task tracker to create content
Content is an integral part of any product (and sometimes even the product itself, such as Tumblr or LiveJournal). Such key indicators as the amount of traffic, page visit time, and conversions largely depend on the quality and readability of content. This is valuable for both readers and search algorithms.
To produce quality content, you need a tool that can help you organize the process of preparing it, gather ideas, prepare banners and improve communication with your team. In this article, we will look at the use of a task tracker for content marketing, which in our opinion provides an advantage for content creation.
Kanban in content marketing
Content creation is a long process that consists of regularly recurring steps. And to make this process simpler and more efficient, kanban boards are suitable. And now let's understand how to use them here.
First – create a board and give it a name, for example, a blog on the site. There can be many such boards, separately for social networks, separately for video content and separately for third-party sites.
Second – you need to reflect the process of content preparation and break it down into columns from idea to publication. For example, in our case it would look like this: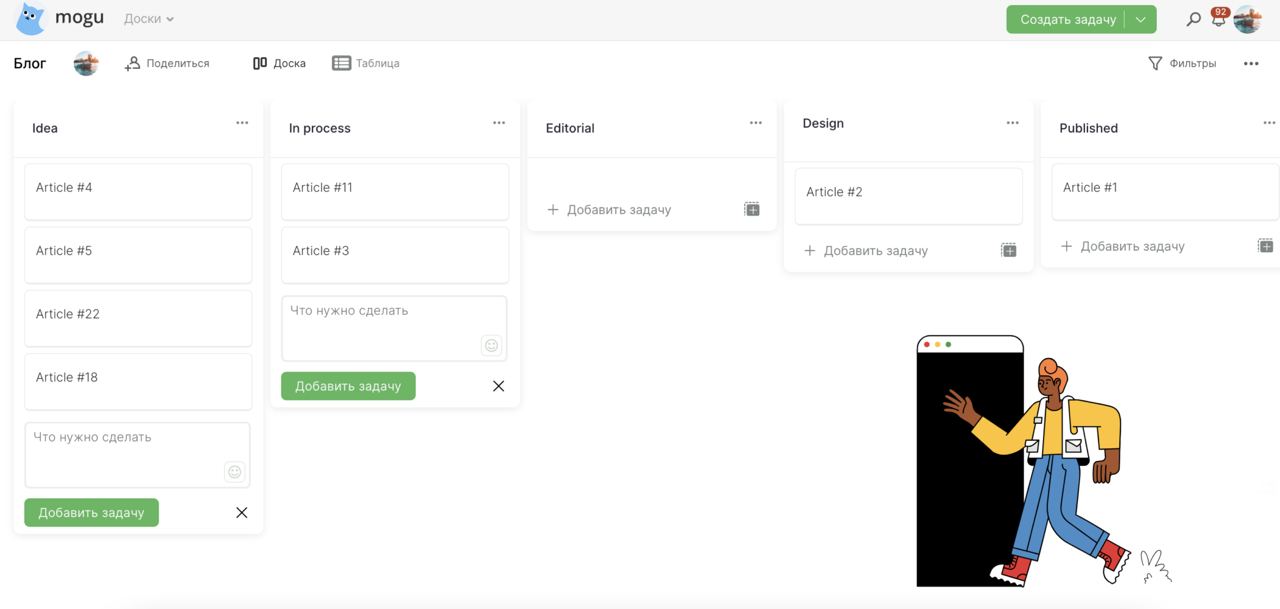 It is worthwhile to approach this process carefully and lay down all the steps of content preparation. Act strictly, one column = one step. After creating the board and setting up the columns, you can move on to the next step.
Team Invitation
As a rule, content creation involves a whole team of specialists. This can include a project manager, editor, smm specialist, copywriter and designer. It is much more convenient to interact together with them on a kanban board than in Telegram chats or Google docs. This method removes the main pain point – chaos. From now on, you won't have to scroll through correspondence from the designer and look for the necessary banners that were sent to you about a month ago. Everything you need will be stored in one task card.
To invite your colleagues, click on the "Share" button at the top of the menu. In the window that opens, enter your username and send the invitation. Important, your colleague must be registered in Mogu at the time of the invitation.
After adding participants, you can assign them to tasks as executors or observers depending on the context. Notifications about assignment of an executor, change of task status will be sent to you via our chatbot. If you want to emphasize a task to one of your colleagues, just tag him/her in the comments, for example @artem.
Working with tasks
So, let's move on to the most interesting part – the task of working on the content. Create a new task and give it a name, logically, if it is the title of the article itself. Add all the necessary participants and assign a responsible person. Next, let's look at the functionality in more detail.
Tags. Tags will help you divide your content into headings. For example, "Product article", "Case study", "News digest", etc. Then, in the display of tasks in the form of a table, you will be able to analyze and evaluate the proportions of content types.
Comments. In comments you can discuss articles, posts or graphics. Tag colleagues, ask questions and provide answers. Not infrequently, this discussion can help generate useful ideas for content creation. Best of all, these comments won't get lost in the endless chatter in chat rooms.
Files. Add files to task cards. Designers can upload banners or animations this way, copywriters draft articles or posts. And all this is stored safely on our server. We remind you that up to 1GB it is free of charge.
Thank you for your attention to this material. We hope that you will be able to integrate our product into your work, because it will significantly streamline your content preparation processes.